Introducing: Letz.AI
A creative AI system for Luxembourg that allows its users to generate images from their local communities.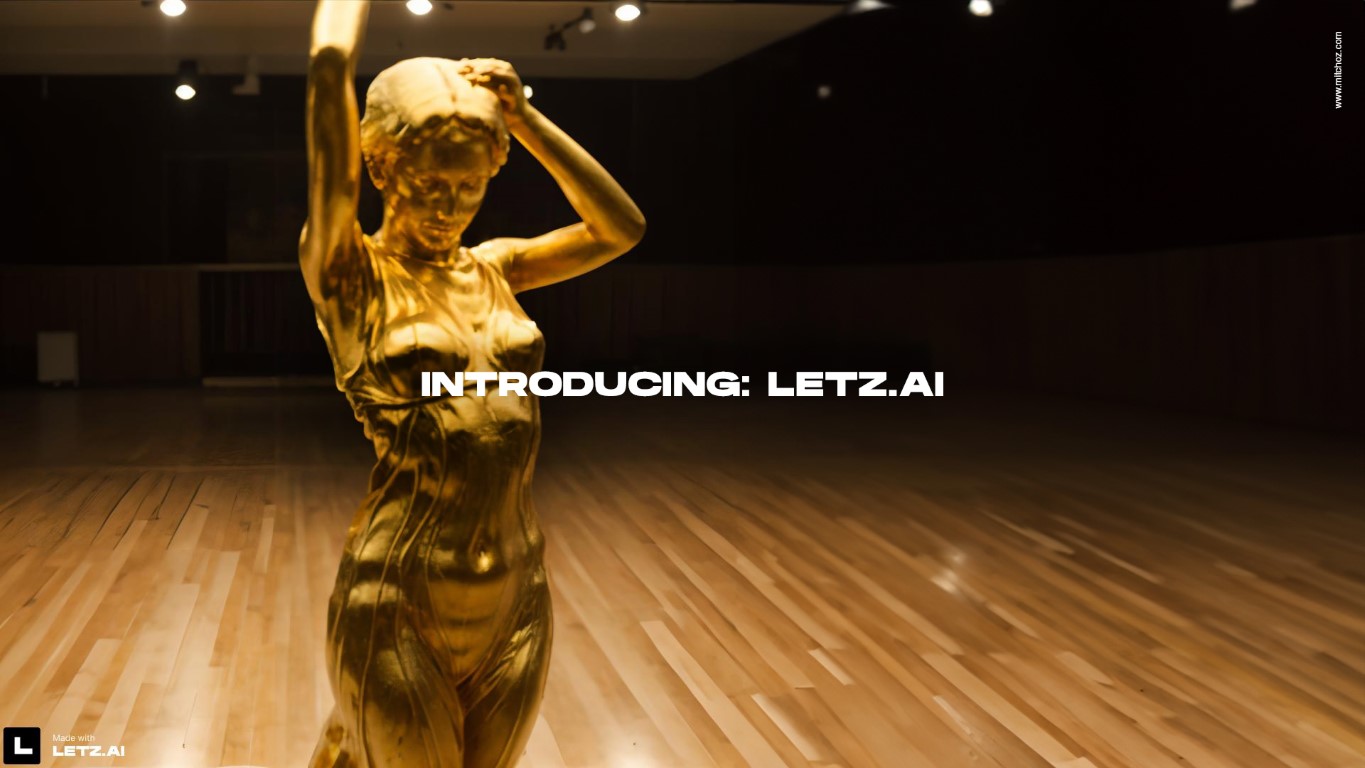 Over the course of the past months, we've seen many different roadmaps unfold for creative AI tools.
We've seen DALL-E mark the beginnings of the generative AI hype. We've seen Stable Diffusion pave the way for a huge open-source movement. We've seen Midjourney reach extreme levels of photorealistic quality. But all of these systems lack one important aspect of today's internet: they have no social features. In other words: You can't interact with others when using them and you can't generate images of yourself, your friends, your products, or your local environments. As a consequence, the images you can come up with are often meaningless, unless you're one of the few people who actually do proper AI art.

Furthermore, as Luxembourgers, we're often at a disadvantage when it comes to new global innovations. Due to our (almost) secret language and a unique niche market, we're often left on the sidelines when new products are being rolled out.

This was also true for generative AI systems and it started to bother me.
So at the beginning of Summer, while walking on a trail in the 'Mullerthal' in my home country Luxembourg, I got an idea. Then I gave us one month of time and a mission.

I asked: What if we took advantage of this "Everybody knows Everyone" microcosm and built a platform that allowed everyone to generate images of themselves, their friends, and their favorite local stuff like the 'Gëlle Fra'?

What would it take to make such a platform interesting for the average person? What if we built a platform that allows anyone to create images of literally anything from their local community? What if you could interact with your peers through unique images, instead of text messages?


After all, a picture says more than a 1000 words, right?
From idea to proof of concept
As soon as the spark of this idea infected my partners at
Neon Internet
, we decided to attribute some internal resources (including 300% of my own), and so we gave ourselves one month of time to build a first version of this platform.
We started collecting public data of all kinds of local things: the 'Gëlle Fra' (a famous Luxembourgish monument), the 'Bouneschlupp' (a national dish) or 'Jean Asselborn' (the country's favorite politician).
As soon as we started working on this, it took us around 3 days to have the first Proof-of-Concept running, and then 3 more days to bring an actual MVP online. Then we did the first demos.
The results: Well, people were mindblown.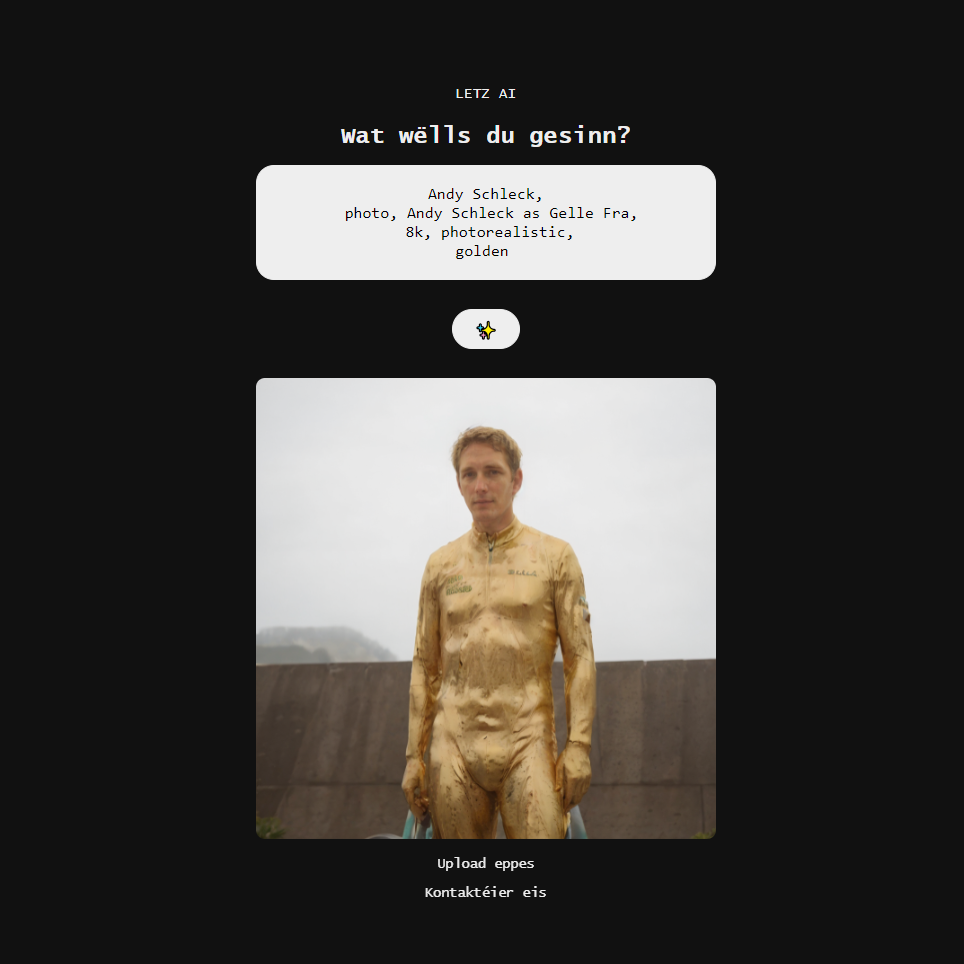 LetzAI MVP Screenshot - Andy Schleck as Gëlle Fra
The first feedback
Quickly, it became clear to us that we had built something people wanted. "Hey can it also do this?", "What if you try that?" - Early demos sparked tons of emotions. In fact, we realized that the average person doesn't want to see a random panda doing kickflips on a skateboard. Neither do they care about photorealism or cinematography - instead, they want to see themselves, their friends, and the things they know.
Our hypothesis was proven right.
Funnily enough I had the perfect sample group: I showed the tool around on the same family event where, exactly 1 year before, I showed everybody DALL-E 2.
Long story short: A year ago nobody got the idea behind DALL-E, but this year everybody got the idea behind LetzAI.
It seemed like we had found a way to unlock the creative spirit of the 'uncreatives'. Those who aren't interested in sophisticated tools like Midjourney to make 'art'. We triggered the imagination of those who just want to have fun, but also of those who see a business opportunity in the ability to place their products into such a system.
After the first demos of the MVP, it was clear to me that I had to deep dive and go into full 'berserk' mode (meaning my sleep routine was reduced to like 4 hours per night). We went on to develop an infrastructure that would allow us to scale this product. GPU costs are expensive, so the process was sometimes nerve-wracking, but eventually, we managed to build a product pipeline that we felt was solid enough to take on its first users.
Summarized, this means that a month after we showed the MVP to the first friends and advisors, we had a full-fledged product and put it online on
www.letz.ai
as a closed early-access version. Shoutout to Torge who suggested the cringe, but very fitting name of 'LetzAI'.
When, at the end of August, we started posting the first visuals 'Made with LetzAI' on our
social media channels
, we were able to create some of the funniest sh*t I had seen in a long time. We had a good laugh at our Cactus 'Yuppi' being drunk at the Schueberfouer (note that you can only understand this meme if you know Luxembourgish culture).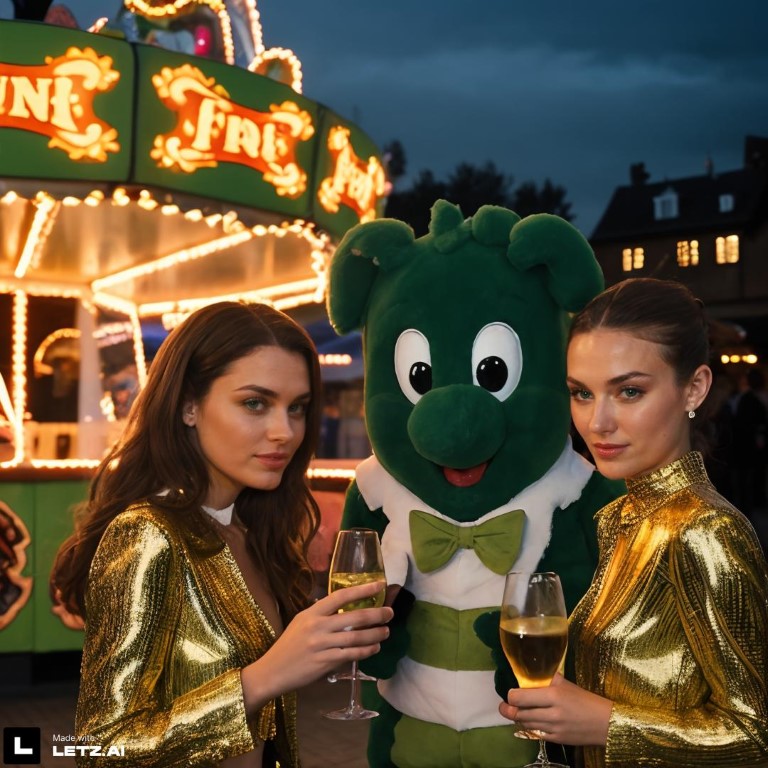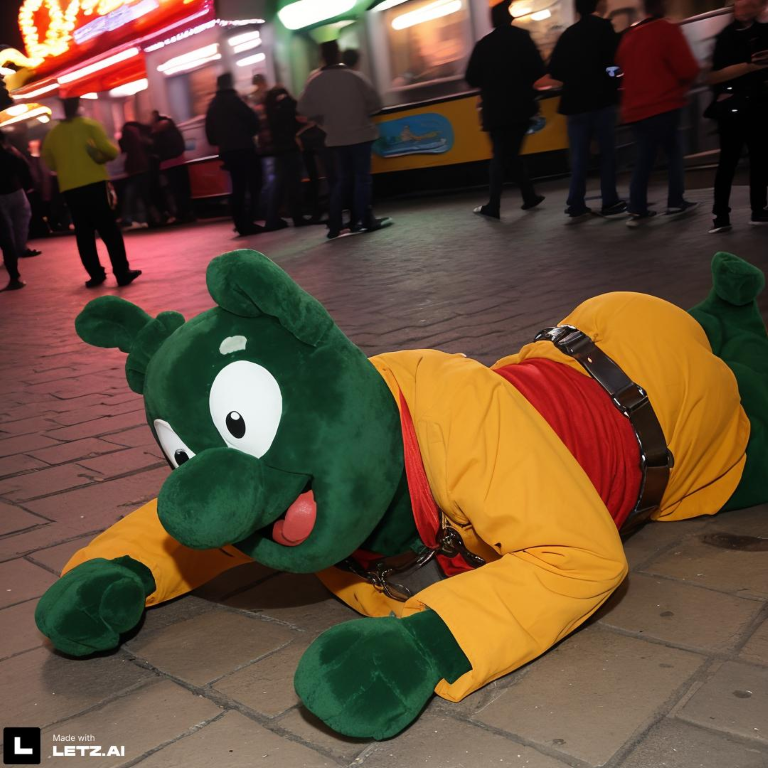 LetzAI Example - Yuppi at Schueberfouer
Furthermore, our first posts, like the
local politicians as Marvel Super Heroes
got shared by the Ministers themselves, and we had received personal requests from other politicians, like Mars Di Bartolomeo who we quickly portrayed as "The Martian".
Setting sails
Today, I'm happy to announce that we're confident enough to open up this project to a broader audience. From now on, more people can start creating their own AI images using our sandbox tool. In order to be able to afford the costs, we're selling Early Access Keys for 99€ to early adopters who want to help us improve this experiment and yield the first fruits. These keys are meant for people in Luxembourg who think this is an idea worth exploring. It's for the people who are not afraid of the societal challenges that this technology brings with it and who want to find solutions to these challenges instead of sitting on the sidelines criticizing those in the arena.
The current version of LetzAI isn't perfect and it still has many flaws. For example it can't generate two people on the same image. But we're very ambitious to improve things over time.
If you believe that having a local AI system is useful, interesting, or just really really cool, you can now support us by buying an Early Access Key on
www.letz.ai/earlyaccess
and by spreading the word. We're also looking for investors and other potential collaborators who find this idea intriguing.
If you want to contribute, we'd be happy to have you on board - as a user of the tool or as a collaborator.
Finally, I want to say thanks to the many people who already provided their feedback, mentorship, and man-hours for this product. You know who you are. Thank you ❤️
It's time to put this ship into unknown waters. I hope you'll have as much fun with this as I already had :)
If you live in Luxembourg, join the journey today on

www.letz.ai